Picture a vast, stunning lake surrounded by forests, where the water shimmers under the sun's rays. This is Leech Lake, a massive natural wonderland in northern Minnesota that covers more than 112,000 acres. It's a paradise for nature lovers and adventure seekers alike.
As one of Minnesota's largest lakes, (3rd largest in fact) Leech Lake isn't just water; it's a haven for anyone who loves the outdoors. With its many bays, islands, and quiet spots, this lake is perfect for exploring and having fun.
The absolute best way to experience Leech Lake is by boat.
Where do you rent a boat on Leech Lake?
There are many boat rental companies that serve Leech Lake and Park Rapids Boat Rental has the highest rating of them all.
Steps to Renting a Boat on Leech Lake
Step 1: Visit the Website
Go to the Park Rapids Boat Rental website. Look on the home page or go to the Booking Page. It's easy to use and helps you book a boat without any trouble.
Step 2: Set your Dates
Make sure we have boats available on the days you want. Select the first day of your rental and then the last day of your rental. The earlier you book a boat the more options you will have!
Step 3: Check Out the Boats
Look at the different boats we offer for the selected dates. We have boats for fishing and pontoons for just cruising around. Or maybe you're up for some tubing action! Pick the one that's right for what you want to do.
Step 4: Book It
Once you've chosen your boat, book it online. Fill in your details and finish your booking. If you have any questions along the way, give us a call and we will be happy to help you out!
Step 5: Choose Your Drop-off Spot
For Leech Lake, you can pick from three places: Erickson's Landing, Walker Park, or Whipolt Beach. One of our drivers will bring the boat to one of these spots for you, launch it into the water, and show you the basics of the boat.
You will have all of the information needed to enjoy a day on the water but if you have questions or issues after the driver leaves, we are always just a phone call or text message away!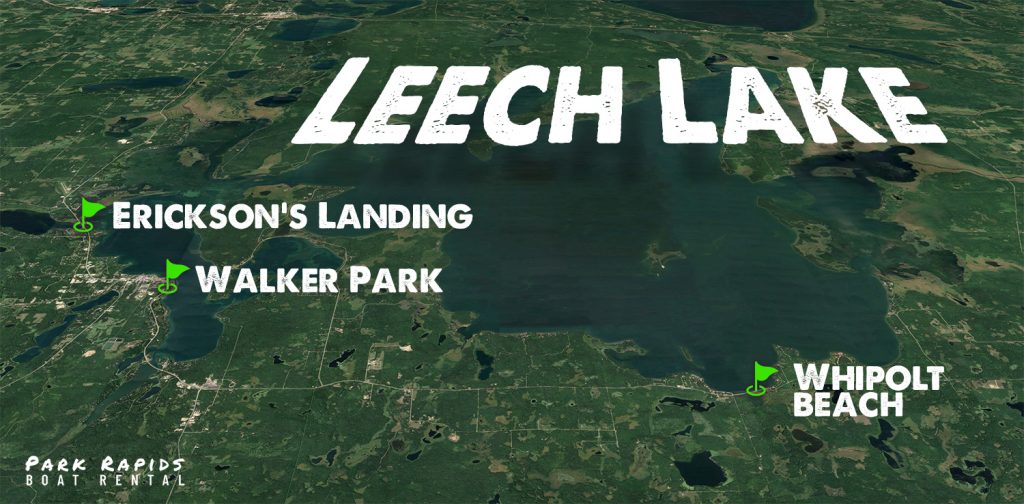 Step 6: Have Fun!
There's no place like Leech Lake for boating, fishing, tubing, exploring, and simply unwinding. Feel the rush as you skim across the lake's surface on a boat, reel in a big catch while fishing, or enjoy the thrill of tubing behind a speedboat. Explore the hidden coves and serene spots along the shore, discovering nature's secrets tucked away in every nook. And when the day winds down, gather around a campfire under the stars, sharing stories and laughter with friends and family. Leech Lake is a haven for adventure and relaxation, making every moment a chance to create lasting memories.
Tips for a Great Boating Day
Plan Ahead: Check the weather and think about what you'll need for the day.
Stay Safe: Learn about boating safety and make sure everyone has a life jacket.
Explore: Leech Lake has a lot of cool places to see. Take your time and enjoy them.
Respect Nature: Keep the lake clean and be kind to the animals you see.
Conclusion
Renting a boat from us here at Park Rapids Boat Rental makes exploring Leech Lake easy and fun. Start your adventure now and enjoy the beauty of Leech Lake with one of our boats!